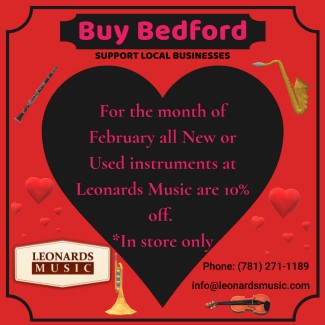 Leonards Music is proud to be a part of Bedford's Buy Local Campaign.
This wonderful campaign encourages consumers to buy local by supporting the small businesses in your area.
For the month of February we are offering a 10% discount on all our new and used instruments. This offer is exclusive to in-store shoppers and will not be available for on-line purchases.
For Professional and Intermediate instruments please call our office at 781-271-1189 for prices and availibilty.
To view our offerings of used instruments, please following this link:
If you have any questions, please do not hesitate to give our wonderful Customer Service staff a call at 781-271-1189. We look forward to hearing from you.